WA's Infrastructure in the Spotlight
Posted On September 21, 2018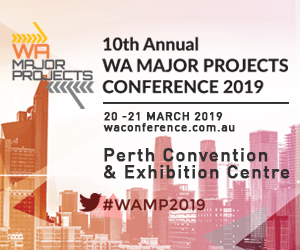 With confidence returning to the mining industry, the WA economy continues to turn a corner and is expected to be the fastest growing state by 2020.
Against this backdrop, the 10th Annual WA Major Projects Conference - "Shaping WA's Infrastructure for the Future", will be taking place on the 20th & 21st of March 2019 at the Perth Convention and Exhibition Centre.
From public transport and roads, airports and ports to urban renewal, resources, water, housing, and energy, the 2-day conference is jam packed with projects across a wide array of sectors and is the place to be to hear the latest updates across the realm.
The State Government is heavily investing in job-creating economic infrastructure, with $3.6 billion allocated for METRONET Projects, $3.2 billion for roads, $655 million towards health infrastructure and a $22.2 billion investment towards education in the recent budget. The Conference will provide a forum to debate and discuss these infrastructure investments along with polices and priorities for WA.
Focusing on WA's Transport Infrastructure Priorities, Richard Sellers, Director General Transport WA will deliver a keynote address on day 1 of the conference.
In order to avoid future traffic gridlock, Australian governments have committed to an unprecedented investment in rail infrastructure and rolling stock. The conference will feature the METRONET transport programme in Greater Perth and explore what it means for the state's future transport needs.
Simon Thomas, Project Director will profile BHP's US$3.6 billion South Flank Project in the Pilbara at the conference.
With Chinese ore buyers paying steep premiums for higher-grade ores, the South Flank iron product is expected to boost the average grade of BHP ore from the Pilbara to 62 per cent.
First ore from South Flank is targeted for 2021, with the project expected to create about 2500 jobs during construction and 600 ongoing roles.
Westport is creating a strategy to deliver a sustainable and globally-responsive freight, trade and logistics network for the Fremantle, Kwinana and Bunbury regions that will be delivered at the end of 2019.
Nicole Lockwood, Independent Chair of the Westport Taskforce, will give an insight into how the formation of the Westport strategy is progressing.
Other prominent topics and projects which will be discussed at the conference include the Precincts Project, Perth Airport's New Runway Project, Establishment of Infrastructure WA, Lumsden Point General Cargo Facility, Cycling Infrastructure for Perth, to name a few.
The conference is an opportunity for industry leaders and government officials to share ideas on common challenges and acquire the latest information on major infrastructure projects shaping the development of Western Australia.
The 10th Annual WA Major Projects Conference is being held next year at the Perth Convention and Exhibition Centre on the 20th & 21st of March 2019.