A Greater Curtin University a Vision for the Future
Posted On November 9, 2017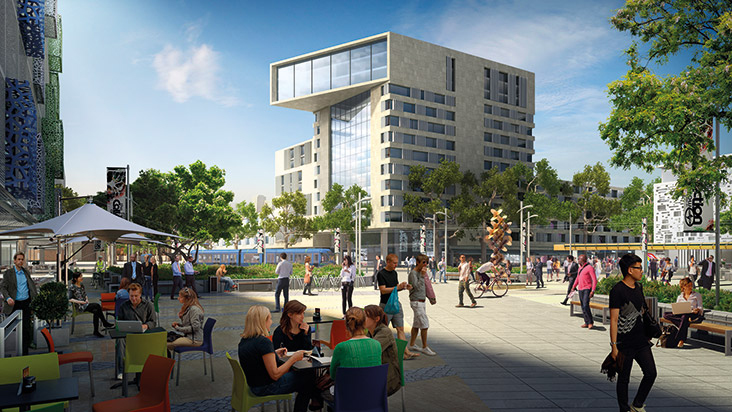 Coined as 'Bringing Innovation to Life', the $500 million Greater Curtin Vision aims to propel Perth's Curtin University into the same competitive league with the likes of Oxford or Harvard Universities. The vision's 'Masterplan' states the project will utilise smart technology, improved sustainability, employment opportunities and continued entrepreneurial availability to improve the educational facility.
At the 9th Annual WA Major Projects Conference 2018, 21st-22nd March 2018 at Perth Convention Centre, Tim Urquhart, Director of Properties Curtin University, will discuss how the university aims to create a communitive hub around the educational institute and how planners from Curtin are devised an outline that encompasses economics, innovation, arts and culture for students, tourists and locals to experience.
Planners deduce that by 2031, the vision's estimated completion date, the university will encompass over 44,000 full-time students, over 6700 full-time employees and over 2300 research staff.
As Perth shares the same time zone with 60 per cent of the world's population, planners will now utilise upgraded technology and the rising globalisation and global citizen trends prevalent among students and workers.
When creating the outline of the project, planners embedded six key principles into the vision to create an improved Curtin University. These include Greater Systems, Living Laboratory, Collection of Cultures, Platform for Partnerships, Networked Communities and Distinctly Curtin.
The Greater Systems principle encompasses a strategy to incorporate sustainable infrastructure. This features actions such as embracing the naturally occurring ecology and species character zones, rain gardens, increasing biodiversity and additional sustainable technology.
Living Laboratories also plays into the Greater Systems as factors include sustainability. Research in the naturally occurring Biosystems, green infrastructure, innovative buildings and facilities and visible research are all included in this area.
With the welcoming a diverse student body, it's no surprise that Collection of Cultures features as a key principle. Characterised as an integrated community, and to cater for those living on or commuting to Curtin, planners have included adaptable facilities, diverse activity hubs and varying housing choices for all types of students.
When outlining the Platform for Partnerships principle, planners focussed on the integration of the sociability of Curtin common areas. This included improving common areas both inside and outside, creating more sustainable places to live, work and play within Curtin, places for idea exchange and creating smarter community hubs.
Smarter community hubs are also intertwined with the Networked Communities principle. By 2031, there will be better online accessibility, improved public transport integration, an increase of green-travel solutions and a large focus on connecting socially with others at the university.
Distinctly Curtin refers to the intrinsic experience created by university planners for those studying and working at the campus. Building on the foundations developed from various cultural involvements, this principle includes spaces for entrepreneurs, transforming Curtin's heritage and various cultural hubs.
On completion, in 2031 Curtin University plans to host an extra 21,121 students (23,062 in 2011 to 44,182 in 2031), have 9000 additional dwellings (1200 in 2011 to 10,200 in 2031) and have created 3688 new jobs (3012 in 2011 to 6700 in 2031).
At the 9th Annual WA Major Projects Conference 2018, 21st-22nd March 2018 at Perth Convention Centre, Curtin University's Greater Curtin Vision and 'Masterplan' will be just one of the projects comprehensively outlined by industry experts in the infrastructure industry.

About Expotrade
Expotrade is a global conference and event organizer with its head office based in Melbourne, Australia. Expotrade has delivered some of the largest, most successful B2B industry conferences and events in the areas of infrastructure, major projects, sustainability, technology & architecture. For almost 10 years, our unique blend of knowledge, experience and flexibility has accomplished an array of consistently top quality events. Today, Expotrade events enjoy such a distinctive edge, they are amongst the best patronised in the calendar.
For more information, visit www.expotradeglobal.com
Source: Curtin University